Come to enjoy a lovely wine tasting of Skalicky rubin, which is the second slovak apelation. Guided wine tasting is by Winemaker, Mr Branicky, he will guide us with 5 samples of Skalicky rubin from 5 wine makers in a historical wine cellar of Slovak National Wine Collection.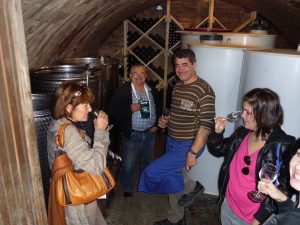 What is waiting for you? 
– welcome drink
– guided wine tasting of 5 samples of Skalicky rubin
– tasty and traditional snacks from Skalica
– traditional Skalica music and a lot of fun 🙂
The entrance tickets available: 15 euros/person
directly in Slovak National Collection of Wines
or online
When: 19.4.2018
Time: 18.00 – 22.00
Where: Slovak National Collection of wine, Radnica 1, Bratislava
About Skalicky rubin
It is a red wine, made of fresh grapes coming only from Skalica region. It consists of Frankovka modra (70%), St. Laurent and Modry Portugal grape of varietes. The wine is fully bodied, it contains a high content of tanins, antioxidants and the colour is colour of rubin stone.
Wine tasting of Skalicky rubin